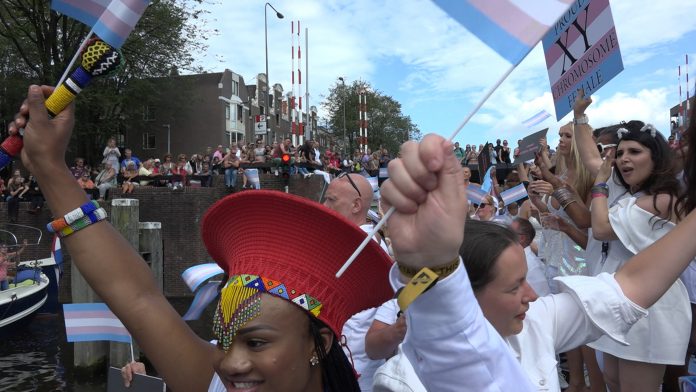 This year we were asked again to make a report on the Trans Boat, during Amsterdam Pride. My fascination for trans people is based on a deep respect i feel for them. The problems they have to overcome, just to become who they are, are huge. Not only physically. Mentally they have to deal with the stigma's in society. In some countries understanding around transgenders is improving because of their increasing visibility. But in general we may conclude that all over the world the position of trans people is bad.
A role-model whom was given a platform during this Pride Amsterdam is the Brazilian trans woman Ana Paula Lima. She was invited to be one of the ambassadors of the event. I got to know Ana Paula a few years ago. Her passion and eagerness to improve the position of trans people is the drive of her activism. Her activism is rooted in her painful personal experiences. I think that activism in general is rooted in painful confrontations experienced in one's own life. Ana Paula is unstoppable. She joined a group of bi-cultural transgender people called Trans United,a group under the umbrella of COC (The oldest LGBT organization in the world).
Trans United was founded by miss Beyong Veldkamp, a trans activist with roots in Suriname, with the goal to promote visibility and emancipation of bi-cultural trans people in the Netherlands. An extra vulnerable group within the trans community. Ana Paula told me that she had visited the Canal Pride the year before and that she was shocked to see that there was no representation of the trans community. She decided that this was unacceptable and made it her goal to change that situation. She was the driving force behind the first boat for bi-cultural trans people that sailed in the Canal Pride last year.
Ana Paula and all the other fantastic volunteers had to overcome lots of hurdles and problems but in the end they accomplished their mission. But her mission didn't end there. She decided that she wanted to change the circumstances in which trans people have to live for the better. Trans United published a report on the living conditions of trans people in Dutch society.The report addressed the problems in healthcare, education, employment, mental and physical problems they face and the notion that a lot of trans women are forced into prostitution by circumstances, specially bi-cultural trans women.
Her efforts were noticed by the organization of Pride Amsterdam and she was asked to be one of the ambassadors this year. In the short period I know her, Ana Paula developed herself from a beautiful but sometimes frustrated trans woman into a full-blown trans activist who knows how to convince  people of the urgency for change in legislation, care and other matters that are important for her community.
The first boat for bi-cultural trans people last year was an emotional roller coaster.The second boat wasn't different. There is a lot of criticism on the Canal Pride. Complaints about a lack of political messages and the involvement of big companies and the increased commercialization of the Pride. Complaints that make no sense to activists from countries where Pride cannot be celebrated.
For me the emotions on the faces of the trans activists on board spoke a thousand words. Our Brazilian guest told me that the cruise through the canals felt like a long hug. He told me over an over that the people smiled at him. Another cute guy told me that it felt that he was accepted by everyone at least for one day. A guy from Jamaica bursted  into tears, overwhelmed by emotions. He thought about the situation at home, about his LGBT brothers and sisters who could not experience this celebration of inclusion and love. Activists from The Netherlands, Kuwait, South, Africa, The Philippines, Brazil, Pakistan, Italy, Jamaica, and other countries joined together on the trans boat for a cruise of love and acceptance. ACCEPTANCE STARTS WITH VISIBILITY.
My thanks to all the courageous and beautiful people that made this day a special one.